Baked Stuffed Pork Chops and Pan Gravy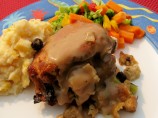 Photo by lazyme
Prep Time: 15 mins
Total Time: 2 hrs 15 mins
Servings: 6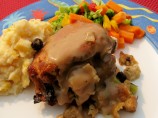 Photo by lazyme
About This Recipe
"I first cooked these in the early 90's when I belonged to a cooking school and they're great! Make sure your guests are hungry: this is a very hearty entree. Gratin of Yukon Gold Potatoes makes a really good side dish. I cook them with apple juice - just haven't gotten around to trying them with wine. Note: The recipe is easily modified for thinner chops by reducing the browning and baking times."
Ingredients
Stuffing

4 slices day old bread, trimmed of some crust, cut in 1/4-inch cubes

1/4 cup butter or 1/4 cup margarine

1/2 cup onion, finely chopped

1/2 cup celery, finely chopped

2 tablespoons parsley, chopped

1/2 cup dark raisin

1 1/2 teaspoons salt

1 teaspoon dried marjoram

1/8 teaspoon pepper

Chops

6 pork chops, 1 1/2-inch thick ( each about 3/4 pound)

1/4 cup flour

1 teaspoon salt

2 tablespoons butter or 2 tablespoons margarine

1 cup apple juice or 1 cup white wine or 1 cup apple cider
Directions
Melt 1/4 cup butter in a large skillet over medium high heat and saute the chopped onion and celery, stirring, until onion is golden, about 5 minutes. Remove skillet from heat. Gently stir in bread cubes. Add parsley, raisins, 1 1/2 teaspoons salt, marjoram and pepper; toss lightly to combine. Set aside.

Preheat oven to 350°F Trim excess fat from chops, reserving the fat. Using a sharp paring knife, cut a pocket in each chop, all the way to the rib. Fill each pocket with 1/4 cup stuffing; fasten together with a couple of toothpicks.

Mix together the 1/4 cup flour and 1 teaspoon salt. Lightly coat the pork chops on both sides with flour mixture, reserving remaining seasoned flour for gravy.

Heat 2 tablespoons butter and reserved pork fat in a large skillet. Over low heat, cooking 3 at a time, brown chops well on both sides, turning with tongs, 8-10 minutes on each side or until browned. Remove each batch of browned chops to paper towels.

Pour off fat from skillet, and add apple juice, white wine, cider or a combo of liquids to skillet. Stir over medium heat to dissolve browned bits. Pour into the bottom of roasting pan. Stand chops bone-side down in bottom of pan. Cover with foil and bake in preheated oven 1 hour.

Uncover and bake 30 to 40 minutes, or until tender. Remove chops to platter and tent with foil to keep warm.

Optional Gravy: Over medium heat boil drippings, uncovered, until reduced to 1 cup. Dissolve reserved flour mixture in 1/2 cup of water. Add to drippings and bring to a boil, stirring; simmer 3 minutes. Taste and adjust seasonings. Strain if necessary. Serve with chops.