Quesadilla Yee-Haa! Salad (Hungry Girl) 6 Ww Points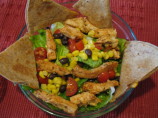 Photo by punkyluv
Prep Time: 15 mins
Total Time: 20 mins
Servings: 1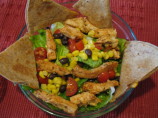 Photo by punkyluv
About This Recipe
"This is a great salad! It is suppose to be like the explosion salad from chili's. I am sure that it is close to the delicious fattening one, but it is really good and filling. UPDATE! 3-02-09:sometimes instead of making this dressing i take 2 tablespoons of light sour cream and 3 tablespoons salsa and mix it together for my dressing! it is delicious and lowers the point by one or two."
Ingredients
1 small low-carb whole wheat tortilla

1/4 cup shredded fat-free cheddar cheese

3 cups chopped romaine lettuce

3 ounces lean cooked boneless skinless chicken breasts, cut into strips

1/4 cup diced tomato

2 tablespoons canned sweet corn, drained

1 tablespoon canned black beans, rinsed

1 teaspoon fajita seasoning mix, dry

Dressing

3 tablespoons fat free balsamic vinaigrette

1 teaspoon lemon juice

1 teaspoon lime juice

1/2 a packet if artificial sweetener ( like Splenda)
Directions
Begin by mixing together the fajita seasoning mix and 2 teaspoons of water. Toss the chicken in this mixture and set aside.

To make the quesadilla, place tortilla in a pan lightly sprayed with nonstick cooking spray. Sprinkle cheese evenly over one half of the tortilla, and then bring the pan to medium heat. Once the cheese begins to melt, use a spatula to fold the plain half over and press down to seal. Flip and continue to cook and press until the entire quesadilla is hot and toasty; set aside.

Build your salad by layering the lettuce, tomatoes, corn and black beans. Top with the chicken (heating first if desired); cut the quesadilla into triangles and place them around your salad.

Combine all of the dressing ingredients with one teaspoon of water; mix well and serve on the side.

If you like, garnish salad with cilantro.

Enjoy. Makes one serving.