Garlic Crusted Pork Loin With Grand Marnier Roasted Sweet Potato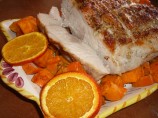 Photo by Chef*Lee
Prep Time: 30 mins
Total Time: 1 hr 30 mins
Serves: 8-10, Yield: 1.0 pork loin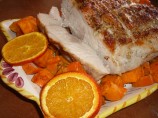 Photo by Chef*Lee
About This Recipe
"One of my favorite ingredients to cook with is Grand Marnier, I think it has the best flavor for so many things! I roasted this pork loin with garlic on a bed of sweet potatoes in place of a rack. If you use a "traveling" roast pan, this doesn't even create too many dishes!!! I hope you enjoy!"
Ingredients
5 small sweet potatoes, peeled and cubed ( the little ones are easier to slice when raw)

1 (2 1/2 lb) boneless center cut pork loin roast

FOR THE PORK RUB

2 large garlic cloves, crushed and chopped ( or 4 little ones)

1/2 teaspoon salt

1/2 teaspoon pepper

1/8 teaspoon ground nutmeg

2 teaspoons light olive oil

FOR THE SWEET POTATO SAUCE

1/8 teaspoon salt

1/8 teaspoon pepper

1/8 teaspoon nutmeg

2 tablespoons light olive oil

2 oranges, one zested and juiced and the other for slicing ( about 3 1/2 TBSP juice and 1 tsp zest)

2 teaspoons honey ( raw thick type is best)

2 tablespoons Grand Marnier
Directions
Preheat oven to 350 degrees F.

Let the pork stand out while you chop the sweet potatoes to prepare for cooking. Place the cubed sweet potatoes covering the bottom of a roasting pan to create a rack/bed for the pork loin to sit on.

Using a sharp knife, score the fat that covers the top of the pork into square shapes. Place the pork, fat side up, on top of the sweet potatoes.

In a glass bowl; mash the chopped garlic with a fork then add the 1/2 tsp salt, 1/2 tsp pepper, 1/8 tsp nutmeg, and 2 tsp olive oil. Continue mashing into a sort of paste. Stir well to combine and then rub the garlic mixture into the fat on the pork and get into the scores real well.

In another bowl; mix the honey with the orange zest and juice, Grand Marnier, 1/8 tsp salt, 1/8 tsp pepper, 1/8 tsp nutmeg, and 2 TBSP olive oil.

Stir until all is dissolved then pour all around the pork over the sweet potatoes.

Slice the other orange and place slices all around the pork on the sweet potatoes.

Place in the oven, uncovered, and roast for 1 1/2 hours.

Turn the pan and stir the sweet potatoes a little bit about midway thru cooking.

Roast until the internal temperature reaches 150-155 degrees F when a meat thermometer is inserted. (Never cut meat to check doneness because it dries it out--get a meat thermometer they are worth it!).

Cover the meat with foil and let it rest for 15-20 minutes before cutting to serve. (Meat that is sliced immediately dries out, you want the juices to redistribute. Also, the meat's temperature will rise at least 5 more degrees while resting and then it will be a perfect 160 degrees F!).

Serve on a platter surrounded by the sweet potatoes and orange slices!