Sourdough Sandwich Buns (Schlotzsky Style)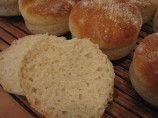 Photo by Galley Wench
Prep Time: 1 hr 50 mins
Total Time: 2 hrs 15 mins
Yield: 8 Buns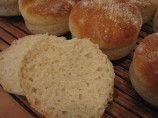 Photo by Galley Wench
About This Recipe
"While searching the web looking for Schlotzsky's Sourdough Bread recipe I came across this on King Arthur's site. I think it's very close to the roll that they use on their original muffaletta sandwich. They are scrumptious and so easy to make! They're somewhere between a roll and an english muffin. Note that their direction require baking in english muffin rings (or similar)."
Ingredients
1 tablespoon instant yeast

1/2 cup water, approximately

1 cup sourdough starter, refreshed

2 tablespoons sugar

1 1/2 teaspoons salt

1/2 cup dried whole milk

3 cups unbleached all-purpose flour

2 tablespoons butter or 2 tablespoons oil

1 egg

cornmeal ( for dusting)
Directions
Mix all of the ingredients together -- by hand, mixer, or in a bread machine or food processor -- just until the dough comes together; it will remain slightly sticky and soft.

Remove dough from bowl onto a well-floured surface, and let it rest for 30 minutes.

Roll the dough into a 16 1/2 x 8 1/2-inch rectangle approximately 1/3 to 1/2-inch thick.

Cut it into eight 3 3/4-inch (approximately) circles.

Dust a baking sheet with cornmeal; grease the English muffin rings (or other round, metal rings approximately 3 3/4 inches in diameter), and place them on the baking sheet.

Fill each ring with a piece of dough; sprinkle the tops with cornmeal.

Place a baking sheet on top of the rings and dough, and let the buns rise for 40 minutes.

Bake the buns in a preheated 375°F oven for 20 to 25 minutes, until they're lightly browned top and bottom.

Remove them from the oven.

After cooling for 10 minutes, remove rings move to wire rack.