Minestrone With Chicken and Sausage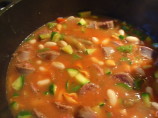 Photo by katew
Prep Time: 20 mins
Total Time: 50 mins
Servings: 8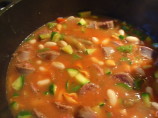 Photo by katew
About This Recipe
"I adapted this recipe from a book called Pure Poultry. I wanted a soup that was hearty, yet still felt fairly light. This really fit the bill. The pesto really adds to the flavor of the final dish, so I highly recommend using it. Serve with a loaf of italian bread to soak up the remaining broth. If you have homemade chicken stock, use it here- the flavor really comes through. When you are prepping your ingredients, remember to cut them in small pieces, so they will fit on your spoon."
Ingredients
1/4 cup olive oil

1/2 onion, chopped into small dice

2 garlic cloves, minced

1/2 teaspoon kosher salt

1/4 teaspoon pepper, freshly ground

1/2 lb chicken breast, cut into 1/2 inch pieces

1/2 lb Italian sausage

2 medium carrots, diced

2 celery ribs, diced

6 cups chicken stock

1 (15 ounce) cans cannellini beans

4 sun-dried tomatoes, minced ( use the oil packed variety)

1 bay leaf

1/2 teaspoon dried thyme

2 teaspoons kosher salt

8 ounces orzo pasta ( any small pasta shape will work)

8 tablespoons pesto sauce (optional)
Directions
Defat the sausage- Place the sausages in a sauce pan with enough water to cover. Bring to a boil, and let boil for 5 minutes. Drain, and when cool enough to handle, chop into small dice.

Add the oil to a large pot, and heat over a medium flame until the oil is warm and fragrant. Add the onion, garlic, 1/2 teaspoon salt and pepper. Cook, stirring occasionally, 1-2 minutes.

Add the chicken and sausage, and continue to cook, until the chicken is no longer pink in the center.

Add the carrots, celery, stock, beans, tomatoes, bay leaf, thyme and remaining salt. Cover, and bring to a boil.

Reduce the heat to medium low and simmer for 15 minutes.

Add the pasta, simmer another 8-10 minutes, until the pasta is al dente.

To serve, ladle into warm soup bowls, and top with a tablespoon of pesto (if using).