Pizza Bianca With Tomatoes and Mozzarella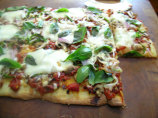 Photo by Rinshinomori
Prep Time: 3 hrs 24 mins
Total Time: 3 hrs 54 mins
Servings: 8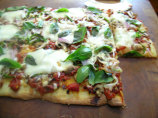 Photo by Rinshinomori
About This Recipe
"A lighter crust for a traditional pizza from Cook's Illustrated. This is a VERY wet dough! It will not roll, so don't try. Recipe is designed for an 18x13 baking sheet; a smaller pan can be used but will need a longer baking time. If you don't have a pizza stone, set the rack in the lowest position, preheat oven to 500, and bake an additional 3-5 minutes."
Ingredients
15 ounces unbleached all-purpose flour ( 3 cups)

13 1/2 ounces water, room temperature ( 1 2/3 cups)

1 1/4 teaspoons table salt

1 1/2 teaspoons instant yeast

1 1/4 teaspoons sugar

4 tablespoons extra virgin olive oil

1 (14 ounce) cans crushed tomatoes

1 tablespoon extra virgin olive oil

1/8 teaspoon table salt

6 ounces shredded mozzarella cheese ( 1 1/2 cups)
Directions
Place towel under stand mixer to prevent wobbling. Mix flour, water and table salt in bowl of stand mixer fitted with dough hook, on low speed, until no dry flour remains, 3-4 min, scraping sides and bottom of bowl occasionally. Stop mixer and allow to stand 20 minutes.

Sprinkle yeast and sugar over dough. Knead on low speed until fully combined, 1-2 minutes. Scrape sides and bottom of bowl, then turn speed up to high and knead until dough is glossy, smooth and pulls away from sides of bowl, 6-10 minutes. (Dough will only pull away while mixer is running; once mixer is stopped, it will fall back to sides.).

Smear large bowl with 1 tbsp olive oil with fingers, scraping excess onto a rubber spatula. Use oiled spatula to transfer dough to oiled bowl. Pour 1 tbsp oil over dough. Flip dough once to cover thoroughly with oil. Cover tightly with plastic wrap. Allow to rise at room temperature until nearly tripled in size, 2 to 2 1/2 hours.

One hour before dough is ready, place oven rack in the middle of the over and position pizza stone on rack. Heat oven to 450.

Meanwhile, set fine-mesh strainer over medium bowl. Empty tomatoes into strainer. Allow to drain 30 minutes, stirring 3-4 times to release juices. Measure ¾ cup tomato solids into a clean bowl (save remaining solids and juice for another application). Add 1 tbsp olive oil and 1/8 tsp table salt to tomatoes.

When dough is risen, coat rimmed baking sheet or jelly roll pan with 2 tbsp oil. Using rubber spatula, turn dough out onto sheet, along with any oil in bowl. Use fingertips to spread dough to edges of pan, being careful not to tear it. (Dough will not reach corners snugly. If dough resists stretching, allow it to rest 5-10 minutes before trying again.) Let dough rest in pan 5-10 minutes, until bubbly. Prick surface 30-40 times with dinner fork.

Bake 15-17 minutes, until spotty brown. Spread tomato mixture evenly, then sprinkle with cheese. Return to oven and bake 5-10 minutes longer until cheese begins to brown in spots. Slice and serve immediately.