Red Snapper Fillets In Packages With Tomatoes, Olives & Capers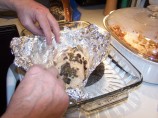 Photo by Cher Jewhurst
Prep Time: 20 mins
Total Time: 35 mins
Servings: 6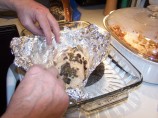 Photo by Cher Jewhurst
About This Recipe
"I have made these the day before and refrigerated until dinner the net night. Remove from fridge about an hour before baking and LF."
Ingredients
3 large vine-ripened tomatoes, cut into twelve 1/4 inch slices

59.14 ml finely chopped shallot

6 (1020.58 g) red snapper fillets, skinned and cut in half crosswise

118.29 ml imported black olives, pitted and chopped

29.58 ml drained capers

salt & freshly ground black pepper

4.92 ml chopped fresh thyme or 1.5 ml dried thyme leaves

59.14 ml fresh lemon juice

4.92 ml olive oil, preferably extra-virgin
Directions
Preheat oven to 450 degrees.

Cut twelve 12-inch squares of aluminum foil or parchment paper.

Set a square on the work surface so one corner points toward you.

Below the imaginary midline that divides the square into two triangles, place a slice of tomato and a small amount of shallot; top with a piece of fish, a portion of the olives and capers, some salt and pepper, and a pinch of thyme.

Sprinkle with 1 teaspoon lemon juice and a few drops of oil.

Fold the triangle top down over the fish.

Seal the packages by firmly folding over the edges three times and place the package in a large baking dish.

Repeat with the remaining squares and ingredients.

Bake for 15 minutes, rotating the pan in the oven after 10 minutes to ensure even cooking.

Carefully open one package; the fish should be opaque in the center.

If it is not, reseal the package and bake the fish about 5 minutes longer.

Serve 2 packages per person, allowing each diner to open his or her own at the table.