Fish Balls in Tomato-Basil Sauce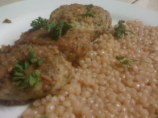 Photo by Mivashel
Prep Time: 25 mins
Total Time: 1 hr
Servings: 6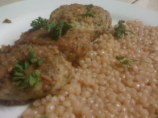 Photo by Mivashel
About This Recipe
"This Italian and Libyan- influenced dish is great to serve in the summer months."
Ingredients
FISH BALLS

1 lb red snapper or 1 lb flounder or 1 lb whiting fish fillets or 1 lb a similar fish, chopped

2 eggs, beaten

2 slices white bread, soaked in water and squeezed dry

1 medium onion, chopped

1 -2 garlic clove, minced

1/4 cup chopped fresh parsley

1/4 teaspoon dried tarragon

1/8 teaspoon nutmeg

flour ( for dredging)

1/4 cup corn or 1/4 cup canola oil

hot pepper flakes, salt and pepper to taste

SAUCE

1 lb chopped tomato ( fresh or canned will work)

1/4 cup fresh basil leaf

1 -2 tablespoon tomato paste

1/8 teaspoon black pepper

1/8 teaspoon chili pepper flakes ( adjust to taste)
Directions
In a food processor, process all of the fish ball ingredients except for the fish/flour/oil. Add in the fish and mix thoroughly.

Mold the fish mixture into balls the size and shape of an egg (if the mixture doesn't cooperate and falls apart, you may want to mix in an egg to help it bind together). Dredge the balls in the flour.

Heat the oil in a skillet, add the fish and brown on all sides (approximately 2-3 minutes). Place them in a greased baking dish. Preheat the oven to 350 degrees.

In a food processor, grind all the sauce ingredients into a smooth paste. Pour it over the fish balls, and bake for approximately 30-35 minutes.

Can be served chilled, at room temperature or hot.