Artichoke Spinach Sauce for Pasta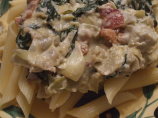 Photo by Literary Mom
Prep Time: 15 mins
Total Time: 30 mins
Servings: 4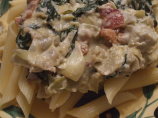 Photo by Literary Mom
About This Recipe
"Like making a main dish out of artichoke spinach dip, but not quite as rich, and with the scrumptious addition of bacon. When I created this, I served it with penne noodles. I used fresh spinach leaves (whole) but I'm sure you could get away with using frozen."
Ingredients
1/2 lb bacon, chopped in 1/2-inch pieces

10 ounces spinach

2 cups water-packed artichoke hearts, quartered

4 ounces cream cheese

1/4 cup mayonnaise

1/2 cup mozzarella cheese, grated

1/4 cup parmesan cheese, grated

2 tablespoons romano cheese, grated

3 garlic cloves, minced

1 tablespoon olive oil
Directions
In a large skillet over medium heat, cook bacon until almost crisp.

Drain off all but one tablespoon of the grease (leave bacon in the pan).

Add garlic and cook for about a minute.

Add olive oil, spinach, and artichoke hearts, sauteeing for a few minutes.

Reduce heat to medium-low and stir in cream cheese and mayonnaise.

When blended, stir in romano, parmesan, and mozzarella.

Cook until all the cheeses are melted, stirring frequently.

Season with salt, pepper, or red pepper flakes to taste.

Combine with cooked noodles and serve.