Stuffed Zucchini / Hairy Melon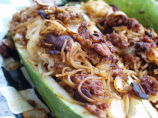 Photo by FLKeysJen
Prep Time: 15 mins
Total Time: 1 hr
Servings: 8-18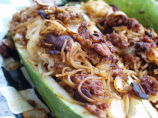 Photo by FLKeysJen
About This Recipe
"My Sister gave me a home grown Chi qua Otherwise known as: Hairy melon, fuzzy gourd, Chinese preserving melon, wax gourd, moa qua (hairy gourd). And I wanted something Asian so I created this stuffed with vermicelli noodle, seasonings, and minced pork. You can use ground. Here is a sight with information on it. http://aww.ninemsn.com.au/article.aspx?id=80690I also stuffed a zucchini with the same filling."
Ingredients
2 large zucchini (4 medium or 8 small) or 2 large hairy melon ( 4 medium or 8 small)

2 ounces vermicelli, mung bean thread

1 tablespoon oil

1/2 onion, diced

3 mushrooms, sliced

1 lb pork, cubed and semi frozen

2 garlic cloves

2 teaspoons chopped gingerroot

1 -2 tablespoon chili-garlic sauce

1 tablespoon soy sauce

2 tablespoons hoisin sauce
Directions
Preheat oven to 350°F.

Cut zucchini lengthwise and scoop out seeds. Lightly rub olive oil on zucchini set on a cookie sheet pan or a large casserole dish with a cover. Soak noodles in hot water off heat for 5 minutes, drain, and rough chop. Heat oil and saute the onions and mushrooms for 5 minutes.

In a food processor pulse pork to mince. Add remaining seasonings. And pulse to mince and blend.

Toss in the noodles, onions and mushroom into the minced mixture.

Fill zucchini and or hairy melon.

Bake covered for 30 minutes uncover and bake for 10-15 minutes.