Cherry Chocolate Brownies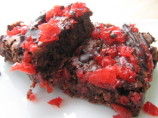 Photo by Marlene.
Prep Time: 30 mins
Total Time: 55 mins
Servings: 24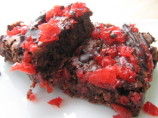 Photo by Marlene.
About This Recipe
"Cherry Chocolate Brownies Absolutely sinful!"
Ingredients
2 cups Ghirardelli semi-sweet chocolate chips ( divided)

2/3 cup butter

1 cup sugar

2 eggs, beaten

1 teaspoon vanilla

1 cup unsifted flour

1 teaspoon baking powder

1/4 teaspoon salt

3/4 cup Quicker Quaker Oats

2/3 cup maraschino cherry, Chopped ( divided)

1/2 cup walnuts or 1/2 cup pecans, Chopped

2 teaspoons vegetable shortening
Directions
Heat oven to 350°F.

In 2-quart heavy saucepan on low heat, melt 1 cup chocolate chips with butter, stirring constantly; remove from heat. Stir in sugar, eggs and vanilla.

Gradually add flour, baking powder and salt to chocolate mixture. Fold in oats, nuts, 1/2 cup chocolate chips and 1/3 cup chopped cherries.

Spread into greased 9 x 13" pan.

Bake at 350 F for about 25 minutes, or until toothpick inserted in center comes out clean.

Cool on rack.

Cut brownies 4 by 6 across pan to make 24 squares.

Sprinkle remaining chopped cherries over top.

In small heavy saucepan on low heat, melt remaining 1/2 cup chocolate chips and shortening, stirring constantly.

Drizzle chocolate over top of brownies to make a lacey pattern.

Chill about 15 minutes to set chocolate. Recut brownies.

>From the Kitchen of: Carole Source: Ghiradell i.