Kittencal's Fried Eggplant Slices (Vegetarian)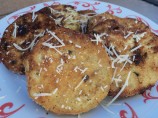 Photo by AZPARZYCH
Prep Time: 20 mins
Total Time: 26 mins
Servings: 6-8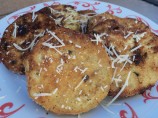 Photo by AZPARZYCH
About This Recipe
"I make this often especially using my summer's crop of eggplant, I would strongly suggest to use only olive oil for frying it really adds to the flavor, use dry breadcrumbs only for this, to save time bread all the eggplant slices ahead of frying and place on a baking sheet so you will have them ready to transfer to the skillet --- you may "sweat" the eggplant slices by sprinkling both sides lightly with salt and drain in a colander for 1 hour, rinse lightly under cold water then pat dry with paper towels."
Ingredients
2 medium eggplants, peeled

3 eggs, beaten

3 tablespoons water

2 cups dry breadcrumbs

1/4 cup grated parmesan cheese

1 1/2 tablespoons dried parsley

1 1/2 teaspoons garlic powder

1 teaspoon dried Italian seasoning ( for a less intense flavor reduce to 1/2 teaspoon)

1 teaspoon seasoning salt ( can use more)

1/2 teaspoon fresh ground black pepper

1 pinch cayenne pepper ( or adjust to heat level) (optional)

olive oil ( for frying, can use vegetable oil or Canola oil)
Directions
Cut the peeled eggplant into about 1/2-inch thick slices.

In a shallow bowl whisk eggs with water.

In another shallow bowl combine breadcrumbs with Parmesan cheese, dried parsley, garlic powder, Italian seasoning, seasoned salt and black pepper.

Heat about 3/4 to 1-inch of olive oil in a large skillet over medium-high heat (the oil should be hot before adding in the slices).

Dip the eggplant slices firstly into the egg mixture, then coat both sides with breadcrumb mixture.

Place the slices into the hot oil and fry only until light golden brown on both sides, about 3 minutes per side (after frying one eggplant you may need to add in more oil to the skillet).

Remove to a large serving plate (these are best when served right away).