Chicken Breast With Roasted Red Peppers, Mozzarella and Pesto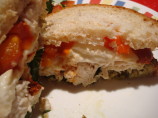 Photo by Starrynews
Prep Time: 45 mins
Total Time: 45 mins
Servings: 4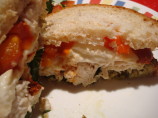 Photo by Starrynews
About This Recipe
"From fitnessmagazine.com. Not an ordinary chicken sandwich!!"
Ingredients
8 cups water

2 sprigs fresh thyme

2 sprigs fresh rosemary

1 lb boneless skinless chicken breast

2 tablespoons extra virgin olive oil

4 -6 leaves fresh basil

8 slices country bread

1/4 cup pesto sauce

8 ounces fresh mozzarella cheese, evenly sliced

1 (7 ounce) jars roasted red peppers

salt and pepper
Directions
Fill a large pot about two-thirds full of water. Bring to a gentle simmer and add thyme, rosemary, salt and pepper. Place the chicken in the poaching liquid and simmer until cooked through. Let the chicken cool in the liquid, then remove and slice about 1/4-inch thick. Brush chicken slices with olive oil and top with basil leaves.

Place 4 slices of bread on a cutting board. Layer the chicken slices evenly over each; spread with 1 tablespoon pesto. On the remaining 4 pieces of bread, place the roasted red pepper strips and sliced mozzarella. Toast all 8 slices of bread in a toaster oven until the cheese is melted and starting to bubble. Remove and top chicken and pesto bread slices with the bread holding the pepper strips and mozzarella.