Vegan Unrolled Cabbage Rolls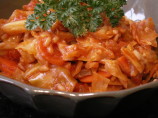 Photo by JanuaryBride
Prep Time: 15 mins
Total Time: 1 hr
Servings: 4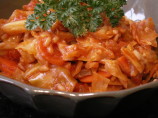 Photo by JanuaryBride
About This Recipe
"From Vegan Vittles by Joanne Stepaniak. This is a tasty, simple and hearty dish. I didn't have quick cooking brown rice and just used cooked brown rice instead- about a cup and a half- and it turned out just fine. I also doubled the tomato sauce because I wanted to use it up and it was delicious. You can definately play with this recipe. I may add some ground not meat next time."
Ingredients
2 teaspoons canola oil

1 cup chopped onion

1 cup sliced carrot

1 stalk celery, finely chopped

2 garlic cloves, pressed

6 cups chopped green cabbage

1 2/3 cups water

1 (8 ounce) cans tomato sauce ( 1 cup)

3/4 cup quick-cooking brown rice ( not instant)

2 tablespoons unbleached cane sugar ( or other sweetner of your choice)

1 tablespoon paprika

1 teaspoon dried oregano

1/2 teaspoon salt, to taste

1/4 teaspoon thyme, crumbled
Directions
Place the oil in a 41/2 quart saucepan or Dutch oven, and heat it over medium high heat. When the oil is hot, add the onion, carrot, celery and garlic and saute them for 10 minutes.

Add the remaining ingredients, mix well, and bring the mixture to a boil.

Reduce the heat to medium-low and cover the pan with a lid and simmer the mixture for 30 to 35 minutes. Do not stir or lift the lid until the total cooking time has elapsed.

Remove the saucepan from the heat and let the mixture rest, covered, for 5 minutes,.

Stir to mix well and serve hot.