Sassy Pesto Pasta and Veggies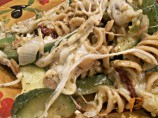 Photo by FLKeysJen
Prep Time: 10 mins
Total Time: 25 mins
Servings: 4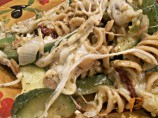 Photo by FLKeysJen
About This Recipe
"A very easy recipe if you have pesto already made! I'm always looking for ways to use zucchini this time of year as the garden always over produces! This made a very large amount of pasta and there still wasn't any left. Everyone took seconds but me... I think you could use many different types of veggies and cheeses in this recipe and it would be just as good. You can also use other pastas such as bow ties or fusilli. I used what was either in the garden or right in the front of the fridge. I used a prebaked acorn squash that I'd planned to use for another recipe and it added a very wonderful nutty flavor to the dish."
Ingredients
1 lb rotini pasta

2 tablespoons olive oil

1 onion, halved and sliced

1 green bell peppers or 1 red bell pepper, sliced into strips

2 -3 garlic cloves, minced

2 zucchini, halved and sliced

1 acorn squash (pre roasted works best) or 1 eggplant, peeled and diced ( pre roasted works best)

1 teaspoon cajun seasoning

1 teaspoon salt

1 teaspoon lemon pepper

1/3 cup sun-dried tomato, cut into strips

1 cup pesto sauce

1/4 cup parmesan cheese

1/2 cup fresh mozzarella cheese, cubed

1/4 cup pumpkin seeds, roasted (optional)
Directions
Bake acorn squash in oven just until tender. If you are using eggplant, peel and cube the eggplant and toss with a bit of olive oil, roasting until slightly tender.

Cook pasta al dente per package instructions.

Saute in large skillet over medium to med.-high heat onion, pepper, and garlic about 4 minutes.

Add zucchini, acorn squash or eggplant and saute until squash is lightly browned and onions are tender about 6 minutes.

Lower heat to medium low.

Add seasonings and sundried tomatoes and mix well.

Add precooked pasta, pesto, parmesan cheese and mix well.

Heat until well blended and pasta has absorbed some of the pesto, about 5 minutes.

Add fresh mozzarella.

Adjust spices to your personal taste.

Buono Gusto!