Blueberry Muffins With Streusel Topping Recipe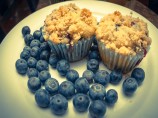 Photo by Lightofhope
Prep Time: 15 mins
Total Time: 50 mins
Yield: 24 muffins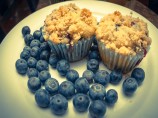 Photo by Lightofhope
About This Recipe
"Adapted from Barefoot Contessa"
Ingredients
118.29 ml all-purpose flour

4.92 ml ground cinnamon

118.29 ml brown sugar, lightly packed

59.16 ml unsalted butter, softened

591.47 ml all-purpose flour

9.85 ml baking powder

2.46 ml baking soda

2.46 ml kosher salt

177.48 ml unsalted butter, at room temperature

354.88 ml sugar

3 large eggs, at room temperature

7.39 ml vanilla extract

226.79 g sour cream

59.14 ml milk

709.77 ml fresh blueberries
Directions
For the topping: In a medium bowl, stir together the 1/2 cup flour, 1 teaspoon cinnamon and 1/2 cup brown sugar. Add the 4 tablespoons butter and combine with a fork until the topping resembles coarse crumbs. Set aside.

Preheat over to 350 degrees.

Place paper baking liners in muffin pans. In a separate medium bowl, sift together flour, baking powder, baking soda and salt.

With electric mixer fitted with paddle attachment, cream the butter and sugar until light and fluffly, about 5 minutes.

At low speed, beat one egg at a time, then add vanilla, sour cream and milk until combined. Add 1/3 of the dry ingredients at a time and beat until just combined. Carefully fold in blueberries into batter.

Scoop batter into muffin pans filling each cup to the top. Sprinkle topping evenly over batter. Be generous.

Bake 30-35 minutes until cake tester comes out clean.