Easy Crabmeat and Corn Soup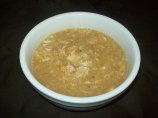 Photo by Angel Stowe
Prep Time: 2 mins
Total Time: 17 mins
Servings: 4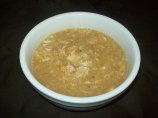 Photo by Angel Stowe
About This Recipe
"When i was younger, my favorite restaurant in Tulsa was Peking Garden. One of my favorites menu items they had was Crabmeat corn soup. Unfortunatly, the place went out of business and i was pretty bummed. Years later, i came across this recipe. It's not quite the same, but its pretty darn close!"
Ingredients
1 (10 ounce) cans creamed corn

1 1/4 cups chicken broth

2 teaspoons soy sauce

1/4 teaspoon pepper

6 ounces crabmeat, shredded ( immitation crab works fine, too)

2 egg whites, beaten
Directions
Mix together first 4 ingredients and bring to a boil.

Stir in crabmeat and lower the heat to a simmer. Add more chicken broth if necessary.

Remove from heat and stir in egg whites. Make sure the soup is hot enough to cook the egg whites through.

Serve!