Easy Authentic Mexican Rice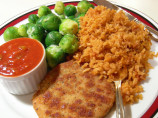 Photo by Divaconviva
Prep Time: 5 mins
Total Time: 30 mins
Servings: 6-10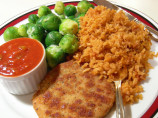 Photo by Divaconviva
About This Recipe
"Easy, Authentic, Flavorful.........The spice's are listed as optional."
Ingredients
2 cups white rice

3 cups water

1 chicken bouillon cubes (1 large or 2 small) or 1 pork bouillon cube (1 large or 2 small) or 1 vegetable bouillon cube ( 1 large or 2 small)

1 (8 ounce) cans tomato sauce

4 tablespoons oil

2 garlic cloves, minced

1/2 cup onion, finely chopped

1 tablespoon paprika (optional)

1/2 tablespoon chili powder (optional)

1/2 tablespoon oregano (optional)

1/2 teaspoon cumin (optional)

salt and pepper
Directions
Heat water and bullion in separate pot or microwave to make broth.

In separate saucepan add oil and brown rice until rice is golden brown color on medium/high heat.

Add seasonings, garlic, and onion. Be sure to keep stirring rice so it does not burn.

Add broth & tomato sauce. Boil for a second, cover and reduce heat to low. Cook for 25 minutes.

Fluff and garnish with fresh cilantro if you like.

Also, if you have a small can of corn you can add that at the same time when adding broth and tomato sauce -- .