Gram's Chinese Pepper Steak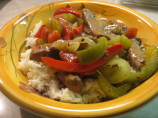 Photo by Chef Petunia
Prep Time: 15 mins
Total Time: 40 mins
Servings: 6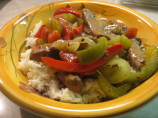 Photo by Chef Petunia
About This Recipe
"This is a tasty way to stretch a little meat a long way and is easy to prepare...both important considerations when feeding a large family!"
Ingredients
1 tablespoon sesame oil ( or you can use any vegetable oil)

1 lb round steak, thinly sliced into strips

1 bunch celery, cut into 1/2-inch slices

3 large green peppers ( you can use mix colors for a nice presentation)

1/2 lb yellow onion, sliced into strips

1 teaspoon black pepper

1/8 teaspoon red pepper flakes

1 teaspoon powdered ginger

1 teaspoon salt ( or to taste)

1 tablespoon brown sugar

1/4 teaspoon thyme leaves (optional)

1 1/2 cups water or 1 1/2 cups beef broth

15 1/2 ounces diced tomatoes ( undrained)

1/4 cup cornstarch

1/4 cup soy sauce

1/4 cup water
Directions
Sear steak strips in oil in a large skillet or dutch oven.

Add celery, peppers, and onion to the meat in the skillet and stir fry for 5 minutes.

Add the black pepper, pepper flakes, ginger, salt, brown sugar, thyme, and water. Turn the heat to low and simmer for 20 minutes. Then add the can of tomatoes.

Mix the brown sugar, cornstarch, soy sauce, and 1/4 cup of water together and then add to the meat and vegetables. Stir gently while the sauce thickens. Serve over rice or mashed potatoes.