Garlicky Grilled Beef Tenderloin With Herbs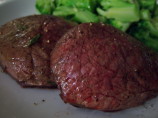 Photo by EmmyDuckie
Prep Time: 4 hrs
Total Time: 4 hrs 40 mins
Servings: 12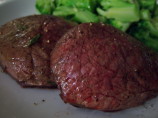 Photo by EmmyDuckie
About This Recipe
"This is a recipe I cooked for my birthday. It was my very first tenderloin on the grill. The recipe was VERY easy. And it got rave reviews at the party. I actually scaled the recipe down for just 1 lb of tenderloin, but I'm including the whole recipe here. I got the recipe online from Food & Wine. I believe they used fresh herbs in the original recipe. I didn't have any fresh on hand, but I had a Ton of dried, so I used that and it was still wonderful. I have changed the recipe to reflect my use of dried herbs."
Ingredients
4 1/2 lbs beef tenderloin, trimmed

1/3 cup extra virgin olive oil

6 garlic cloves, thinly sliced

2 tablespoons cracked black pepper

1 tablespoon dried thyme

2 teaspoons dried marjoram

2 teaspoons dried rosemary

2 teaspoons salt
Directions
Fold the thin end of the tenderloin roast under to make the meat an even thickness. Tie the roast at 1-inch intervals and transfer to a large rimmed baking sheet.

In a small bowl, combine the olive oil with the garlic, pepper, thyme, marjoram, rosemary and salt. Rub the herb oil all over the roast and refrigerate for 2 to 4 hours.

Bring to room temperature before grilling.

Light a grill. Grill the roast directly over moderately high heat, turning often, until nicely charred, about 30 minutes for medium-rare.

Transfer to a carving board and let rest for 10 minutes.

Slice the roast 1/2 inch thick and serve.