English Toffee Cheesecake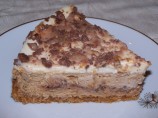 Photo by Luby Luby Luby
Prep Time: 45 mins
Total Time: 1 hr 45 mins
Servings: 12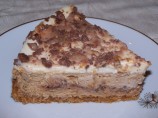 Photo by Luby Luby Luby
About This Recipe
"I've made this dream twice and can't wait for the excuse to make it a third time!! Even after having a piece in the freezer for two months, it was still delicious!"
Ingredients
Crust

1 1/2 cups graham cracker crumbs

1/2 cup toasted almond, finely chopped

1/2 cup toffee pieces ( I like Skor)

2 tablespoons packed dark brown sugar

1/4 teaspoon salt

6 tablespoons unsalted butter, melted

Filling

4 (8 ounce) packages cream cheese, room temp

1 cup packed dark brown sugar

4 large eggs

1 tablespoon vanilla extract

1/4 teaspoon almond extract

8 ounces chocolate-covered english toffee bars, cut into 1/2 inch pieces ( Skor)

Topping

1 (16 ounce) containers sour cream

1/2 cup sugar

1 teaspoon vanilla extract

extra crushed chocolate-covered english toffee bar, for sprinkling
Directions
For Crust: Preheat oven to 350 degrees F.

Combine first five ingredients in med bowl.

Add butter and stir until moist clumps form.

Press into bottom and 1 inch up sides of 10 inch springform pan.

Bake 5 mins, or until set.

Set aside.

Reduce oven temp to 325 degrees F.

For Filling: Beat cream cheese and sugar in large bowl until blended.

Beat in one egg at a time, until blended.

Beat in both extracts.

Pour half of mixture into prepared crust.

Sprinkle with 1/2 inch toffee pieces.

Top with remainder of cream cheese mixture.

Bake until edges are puffed but center is barely set- approx 55 minutes.

Topping: Mix sour cream, sugar and vanilla in medium bowl until smooth.

Pour topping over hot cheesecake and bake another 5 minutes, until just set.

Transfer to cooling rack for 10 minutes.

Run knife around edges.

Chill overnight.

Remove pan sides and place on serving platter.

Sprinkle with extra crushed toffee.

Enjoy!