Romano's Macaroni Grill Chocolate Cake Recipe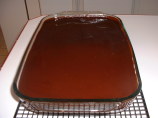 Photo by senseicheryl
Prep Time: 15 mins
Total Time: 40 mins
Serves: 24, Yield: 1 9 x 13 inch pan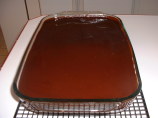 Photo by senseicheryl
About This Recipe
"This information was found at the About.com website, cooking for kids:http://kidscooking.about.com/od/desserts/r/macgrillchoccak.htm The first time I tried the Macaroni Grill chocolate cake, I immediately wanted the recipe. It is moist on the inside with a decadent chocolate ganache topping, then it is finished off with chopped walnuts. Although I'm told the authentic Macaroni Grill chocolate cake recipe calls for coffee, I wanted to make a version for the kids. So this smothered chocolate cake recipe uses buttermilk in place of the coffee."
Ingredients
1 1/2 cups mayonnaise

2 cups granulated sugar

2 1/4 cups cake flour

1/2 cup cocoa powder

2 teaspoons baking soda

1 1/3 cups buttermilk ( or coffee)

1 cup heavy cream

10 ounces chocolate, chopped

1 cup walnut pieces, chopped
Directions
Preheat oven to 350 degrees F. Grease a 9 x 13 pan.

With an electric mixer, beat mayonnaise and sugar together.

In a medium bowl, stir together flour, cocoa powder and baking soda.

Add half of the flour mixture to the mayonnaise mixture.

Add half of the buttermilk to the batter, beating well.

Add remaining flour mixture and remaining buttermilk.

Pour batter into prepared pan. Bake 25 to 35 minutes or until a toothpick inserted 2 inches from the edge comes out with crumbs attached.

Let cool. Meanwhile, prepare ganache: Put chopped chocolate in a heat-resistant dish.

Heat heavy cream over medium heat just until bubbles begin to form around the edges. Pour over chopped chocolate.

Stir until smooth.

Cut cake into pieces and pour ganache over each piece, so it drizzles down the sides. Garnish with chopped walnuts.