Arroz Con Pollo Chapina (Guatemalan Chicken and Rice)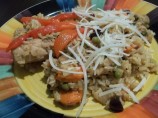 Photo by rpgaymer
Prep Time: 30 mins
Total Time: 1 hr 30 mins
Servings: 6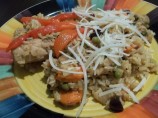 Photo by rpgaymer
About This Recipe
"an absolutely delicious guatamalan recipe."
Ingredients
1360.77 g skinless chicken pieces, skin and fat discarded

14.79 ml corn oil

4.92 ml salt

1.23 ml black pepper

118.29 ml chopped onion

1 garlic clove, chopped fine

118.29 ml chopped ripe tomatoes

354.88 ml raw rice

236.59 ml sliced carrot

78.07 ml stuffed green olive

14.79 ml capers

591.47 ml chicken broth

236.59 ml green peas

118.29 ml pimento pepper, slices ( or substitute jalapeno peppers to heat it up)

1 hard-boiled egg, sliced

29.58 ml grated parmesan cheese
Directions
In a large skillet brown the chicken in the oil over medium heat for 20 minutes. Sprinkle with 1/2 tsp salt and the black pepper. Remove the chicken and set aside. In the same skillet with the chicken fat, fry the onion, garlic and tomato for 2 minutes.

Add the rice and fry for 2 minutes more. Add the carrots, olives and capers and mix everything together.

Pour in the broth and chicken pieces.

Bring to a boil, reduce heat to low, cover skillet and simmer until broth has been absorbed, about 10 minutes. Add the green peas.

Cover skillet with aluminum foil and punch 8 holes in the top to allow steam to escape. Bake in a 300F oven for 30 minutes. Fluff up the mixture once or twice during the baking time.

Serve warm. Decorate the surface with the pimiento strips and egg slices and sprinkle with the cheese. The rice should be dry, loose and not sticky. Serve with fried ripe plantain slices, a salsa picante and pickled vegetables.