Kottlety Pozharskie (Chicken Burger With Coleslaw)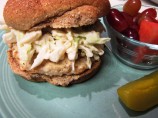 Photo by loof
Prep Time: 15 mins
Total Time: 27 mins
Servings: 4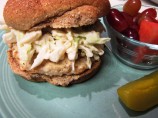 Photo by loof
About This Recipe
"A recipe inspired by Russia. From Ricardo, summer 2008."
Ingredients
Coleslaw

4 cups green cabbage, finely shredded

3 tablespoons rice vinegar

1 teaspoon sugar

1/4 cup sour cream

salt and pepper

Burgers

2 slices bread, without crust

1/4 cup milk

1 lb ground chicken

1/2 cup breadcrumbs

2 tablespoons butter, softened

1/4 teaspoon ground nutmeg

4 kaiser rolls
Directions
Salade de chou: Placer le chou dans un bol. Set aside.

In a small saucepan or in a microwave dish in the microwave, bring to boil the vinegar and sugar. Pour on the cabbage and add sour cream. Add salt and pepper. Set aside in the fridge.

Burgers:.

Preheat barbecue to high heat.

In a bowl, soak the bread in milk. Add chicken, breadcrumbs, butter and nutmeg. Add salt and pepper. Mix well until homogeneous. Shape in 4 patties and coat with breadcrumbs.

Grill the patties around 5 minutes each side. Grill the kaiser breads.

Put each patty on the braed and garnish generously with coleslaw.