Thai Style Chicken Stir Fry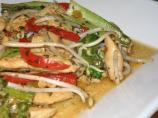 Photo by The Flying Chef
Prep Time: 15 mins
Total Time: 35 mins
Servings: 4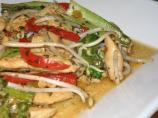 Photo by The Flying Chef
About This Recipe
"This came out of having some vegetables I wanted to use up before they needed throwing out, so feel free to play around with veg. It is super simple and easy to make without having a huge prep time. Although if you don't cook a lot of Asian style food like me, then a lot of people would not always have some of these ingredients on hand all the time. I love Chinese, Japanese, Indonesian, Malaysian etc.. So I have herbs and spices sitting in my cupboard that most people would have never heard of. The ingredients in this though are very common and with Asian becoming more popular to cook at home now days, rather getting a take out. The ingredients listed below are available at just about all regular supermarkets now."
Ingredients
1 kg chicken breast, sliced thinly

2 teaspoons fresh ginger, grated

3 garlic cloves, crushed

2 -3 tablespoons peanut oil

4 green onions, sliced thinly

200 g bean sprouts

500 g baby bok choy, chopped coarsely

1 medium red pepper, sliced thinly ( about250g)

3 tablespoons lime juice

100 ml sweet chili sauce

1 tablespoon fish sauce

1 1/2 tablespoons sugar

2 tablespoons soy sauce

1/2 teaspoon sambal oelek ( or more)

2 tablespoons fresh coriander, finely chopped

1 1/2 tablespoons of fresh mint, finely chopped
Directions
Note: I served this without noodles if you choose to serve over noodles or rice, lower chicken weight to about 700-800g and bok choy to 250-300g and bean sprout to about 120g.

Combine chicken and ginger in a bowl, heat some of the peanut oil in a wok and cook chicken in batches, until browned all over, adding extra oil as needed.

Add a little extra oil and stir fry pepper and garlic for about 1-2 Min's, stir constantly so as not to burn garlic.

Add soy sauce, fish sauce, lime juice, sambal oelek, sweet chili sauce and sugar, stir to combine.

Add bok choy, sprouts, onion, coriander, mint, stir, cover for just a few Min's to just wilt vegetables (you still want a good crunch), stir once more and serve.

To serve: Serve as is on individual serving plates. Read note above if serving over rice or noodles.