Banana-Blueberry Bread Machine Bread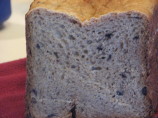 Photo by Bonnie G #2
Prep Time: 8 mins
Total Time: 3 hrs 8 mins
Serves: 12-14, Yield: 1.0 loaf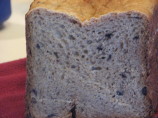 Photo by Bonnie G #2
About This Recipe
"This recipe is from "Better Homes and Gardens,Best Bread Machine recipes". I have made a LOT of bread, and this is at the top #1 spot on my list. And surprise! Its even better cold! I used ocean spray craisens in place of blueberries,They are cranberries that are cherry flavored. I also substituted 1/4 cup wheat gluten, and 1/4 cup milled flax seed for some of the flour, and used 2 Tablespoons sugar and the rest was splenda.I had some frozen banana so I used that. . (Those are my personal changes, to make it a little healthier.) For 2 pound loaf, your machine must hold 10 cups or more. This is for a 2 pound loaf of bread. Servings are a guess, since I had to list something. This loaf rises nice and high, so its a big sized loaf. Time is a guess as it doesn't take but minutes to throw it in the machine, and I didn't pay attention to the machine time, so the time is a guess ."
Ingredients
3/4 cup buttermilk ( I found I needed just a dab more)

2/3 cup mashed banana

1 egg

4 teaspoons margarine or 4 teaspoons butter

4 cups bread flour

1/4 cup sugar ( I used about 2 T. sugar, and the rest was splenda)

1 teaspoon salt

1 1/4 teaspoons bread machine yeast

1/2 cup dried blueberries or 1/2 cup dried tart cherry, snipped
Directions
Follow the directions given with your own personal bread machine for adding ingredients.