Baby's 1st Birthday Banana Cake - No Sugar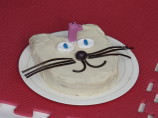 Photo by Tanya Pants
Prep Time: 35 mins
Total Time: 55 mins
Servings: 2-4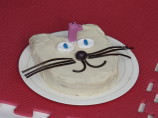 Photo by Tanya Pants
About This Recipe
"I wanted to feed Lucy cake on her first birthday but didn't want to introduce her to new foods on her big day. I also baked it ahead of time so she could sample the cake two to three days in advance in case of a reaction (I didn't actually decorate it until the day of her party). Recipe adapted from a blog called greenparenting (I reduced the egg white, and left out the walnuts/raisins suggested)"
Ingredients
2/3 cup banana, mashed

1/2 cup unsalted butter, softened

2 large eggs

1 egg yolk

3/4 cup water

2 cups unbleached flour

2 teaspoons baking powder

1 teaspoon baking soda

1 teaspoon cinnamon

1 marshmallows

smarties candies ( 1 blue)

1 licorice, rope
Directions
Grease and flour a 9 X 13 inch pan.

Beat banana and butter until creamy.

Beat in water.

In a separate bowl, beat eggs until very foamy.

Beat into mixture.

Blend in dry ingredients.

Beat until smooth.

Spread batter evenly in pan.

Bake at 350°F for 20 minutes or until knife comes out clean.

Draw a cat head onto a piece of paper (approx 4 by 5 inches).

Use cat stencil to cut out two cat heads.

Frost top of one layer and place second cat head on top of first.

Frost cake (use a sugarless cream cheese or sour cream filling).

Decorate with cat face.

Remove candy before allowing baby to attack cake.