Grilled Balsamic Vegetables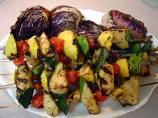 Photo by Sue Lau
Prep Time: 2 hrs 38 mins
Total Time: 2 hrs 46 mins
Servings: 2-3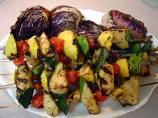 Photo by Sue Lau
About This Recipe
"You can substitute other vegetables for some or all of the vegetables in this (using mushrooms is an example). The technique stays the same."
Ingredients
1 medium zucchini, roll cut

1 summer squash, roll cut

1 piece radicchio, cut into fourths, core left intact

1/2 pint cherry tomatoes or 1/2 pint grape tomatoes

2 tablespoons olive oil

1 -2 tablespoon balsamic vinegar

1 teaspoon kosher salt

1/2 teaspoon fresh ground black pepper

1 pinch red pepper flakes

1 -2 tablespoon freshly grated parmesan cheese (optional)
Directions
Place zucchini and squash in a mixing bowl and drizzle with 1 tablespoons oil, and sprinkle with salt and black pepper and pepper flakes.

Toss squash like salad until it is evenly coated.

Place radicchio on top of squash and drizzle cut sides lightly with olive oil and balsamic, then toss vegetables again, adding a little more balsamic if needed.

Skewer vegetables and grill for 8 minutes, turning frequently, or until vegetables are tender.

Sprinkle lightly with Parmesan cheese before serving if desired.