Spicy Chicken Rustica on Ravioli and Arugula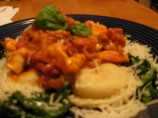 Photo by sassafrasnanc
Prep Time: 10 mins
Total Time: 35 mins
Servings: 4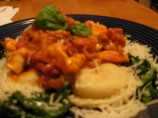 Photo by sassafrasnanc
About This Recipe
"Just made that name up.... This was super flavorful and simple to make. We were fighting over the last serving at lunch the next day. This was one of those "here's what I have, so what can I make?" I think I would have added some black olives if I'd had them but that's the ONLY thing I would change for our taste. I used Classico's Spicy Tomato and Basil Pasta sauce (my very favorite in a jar). I also add a dash of cayenne which is not included in the ingredients listed. Cooking the arugula takes a lot of the bitterness out but adds a "nutty" flavor to this dish. You can use spinach in replace of the arugula if arugula is unavailable."
Ingredients
6 tablespoons olive oil

1 large onion, thin strips

1 red bell pepper, chopped

3 large garlic cloves, minced

3 boneless skinless chicken breasts ( cut into bite size pieces)

1/3 cup sun-dried tomato, chopped

1 (26 ounce) jars tomato sauce ( spicy tomato and basil if available)

1/2 teaspoon sea salt

1/4 teaspoon ground pepper

1/4 cup fresh basil, chopped

1 (25 ounce) packages frozen cheese ravioli

8 cups arugula leaves (loose packed, more or less depending on availability) or 8 cups spinach leaves ( loose packed, more or less depending on availability)
Directions
At medium high heat, saute onion, peppers and garlic in 4 Tbsps. of the olive oil until slightly tender. Add chicken pieces. Saute until chicken is no longer pink. Add sundried tomatoes and saute for 2 minutes longer. Turn temperature down to medium low. Add tomato sauce, salt, black pepper. Simmer for 10 minutes so that flavors blend well. Add fresh basil last 2 minutes of simmering.

Cook ravioli as per instructions on the package.

Heat saute (fry) pan to high and take off of the fire. Pour last 2 tablespoons of olive oil into the pan after it has a cooled for a minute. Add the arugula and stir until slightly cooked (to prevent over cooking like spinach).

Serve the sauce over ravioli with a few "piles" of Argula around the outside for a decorative look -- .A fresh basil leaf on top is a nice touch.