Shallot- Butter Sauce for Seafood BBQ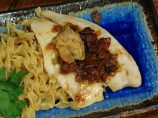 Photo by gourmetmomma
Prep Time: 15 mins
Total Time: 30 mins
Servings: 4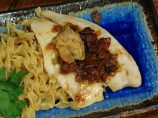 Photo by gourmetmomma
About This Recipe
"This sauce is wonderful for BBQ oysters. Just slip some into the oyster when the shell pops open. Myself, I nearly always add garlic but it is a lovely subtle sauce even without my friend Ms Garlic. There is enough sauce for 4 servings of seafood"
Ingredients
1/2 lb very cold butter

1/3 cup shallot, minced

3 tablespoons beer

3 tablespoons cider vinegar

2 tablespoons fresh lemon juice

1/2 teaspoon cayenne pepper

12 drops hot pepper sauce ( I use Peri-Peri)

2 tablespoons fresh parsley, chopped

salt

pepper
Directions
Put 2 tbsp butter in fry pan and sauté the shallots until transparent& golden 5 minutes.

Whisk in the beer, vinegar, lemon juice& cayenne.

Heat 2-3 minutes until bubbly and kind of syrupy.

Cut remaining butter into table spoons and over very low heat (barely warm) adding a tbsp at a time whisking it into the sauce.

Add the next piece only after the previous one has melted inches.

Remove sauce from heat and whisk in the hot sauce and parsley.

Season with salt and pepper.

Serve the sauce barely warm with your favorite seafood.