Chicken With Raspberry Barbecue/Chipotle Sauce Pizza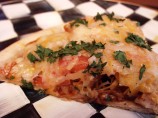 Photo by FLKeysJen
Prep Time: 20 mins
Total Time: 35 mins
Serves: 8-10, Yield: 60.0 appetizers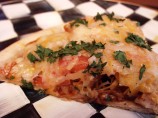 Photo by FLKeysJen
About This Recipe
"Raspberry Preserves mixed with hickory barbecue sauce and mild, medium or hot diced green chiles with diced cooked chicken. You can substitute chipotle sauce for the barbecue sauce but it will be hot, hot, hot. Makes a huge pizza. Use my Beer Pizza Crust Beer Pizza Crust or your favorite. Instructions for appetizers as well. I went to a fund raiser and tried a cracker with chipotle sauce and raspberry preserves and almonds and the cracker was soft. I tried to duplicate the sauce and came up with this recipe with hard crackers and scoops and my son's favorite, the PIZZA.."
Ingredients
Pizza

1 large pizza crust

1/3 cup seedless raspberry preserves

1/3 cup hickory flavored barbecue sauce or 1/3 cup chipotle chile in adobo

1 (4 ounce) cans diced green chilies

1 1/2-2 cups diced cooked chicken

1 cup diced white onion (optional)

1 1/2-2 cups shredded monterey jack cheese

1/2 ripe tomatoes, thinly sliced

1 cup shredded parmesan cheese

1/8 cup finely chopped fresh cilantro

Appetizers

pretzel cracker

Tostitos Scoops
Directions
Prepare crust and place in a large pizza pan.

Preheat oven 400°F.

Poke a few fork holes in the middle (to eliminate puffing).

Cook 6 to 8 minutes. Take out of oven.

Increase oven temp to 425°F.

While crust is cooking, mix preserves, barbecue or chipotle sauce and diced green chiles together. Mix well.

Spread one half of sauce mixture over the entire crust.

Sprinkle crust with chicken and onion (if desired).

Spread the other half of the sauce mixture over the chicken.

Sprinkle 1 cup shredded Monterey Jack cheese.

Cut the thin slices of tomato in half and lay them on the pizza.

Sprinkle the other 1 cup of Monterey Jack cheese.

Sprinkle the parmesan cheese and the cilantro.

Bake 10 -12 minutes.

Take out when crust turns medium brown and cheeses are melted,.

Note: I am at high altitude and I need a higher temperature, so watch the crust.

Appetizers: No crust. Lay out pretzel crackers or Tostito Scoops on large greased baking trays. Layer in the order of the pizza. Use a spoon. You may have to use more tomato slices.

Broil for about 2 minutes at 400°F until cheeses are melted.