Braciola (Braciole) With Tomato and Wine Sauce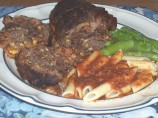 Photo by papergoddess
Prep Time: 30 mins
Total Time: 2 hrs 30 mins
Servings: 4-6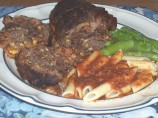 Photo by papergoddess
About This Recipe
"I cut this recipe out of the newspaper years ago. It is TERRIFIC, and I have never seen this recipe anywhere else."
Ingredients
2 lbs thinly sliced round steaks

2 -3 garlic cloves, chopped fine

1/2 cup soft breadcrumbs

6 slices bacon, cooked and crumbled ( or REAL bacon bits)

3 hard-boiled eggs, chopped

2 1/2 teaspoons oregano leaves, divided

1 tablespoon parmesan cheese

1 1/2 teaspoons parsley flakes

1 teaspoon salt, divided

1/4 teaspoon pepper, divided

3 tablespoons olive oil

2 (16 ounce) cans crushed tomatoes

2 teaspoons onion powder

1/4 cup dry red wine
Directions
Place steaks between waxed paper or plastic wrap- pound until very thin.

Cut steaks into serving size pieces (about 8), or you can roll the whole thing and tie with string (That's how I do it!) Combine garlic, crumbs, egg, bacon, 1 1/2 tsp oregano, cheese, parsley flakes, 1/2 tsp salt 1/8 teaspoons pepper, 1 tbs. olive oil.

Spoon equal amounts of this mixture on steaks.

Roll steak and tie with string, or secure with toothpicks.

Heat oil in skillet and brown rolls.

Transfer to oven proof casserole.

Add tomatoes, onion powder, 1 tsp oregano, 1/2 tsp salt, 1/8 tsp black pepper.

Simmer, covered (or bake in 350 degree oven) for 1 1/2 hours.

Add water if necessary- Add wine and cook another 10 minute.

Serve with pasta.

YUMMMMMMYYYYYYYY!