Baked A'nju Pears in Butterscotch Schnapps Sauce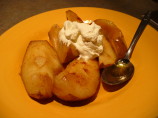 Photo by Montana Heart Song
Prep Time: 10 mins
Total Time: 45 mins
Serves: 4, Yield: 0.5 pear per serving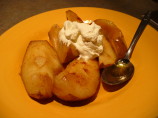 Photo by Montana Heart Song
About This Recipe
"Five to ten minutes prep, bake 35 minutes and serve warm with whipped cream. You may cool also and serve later. You may peel. slice and core. If you like the the peel, leave on the slices. I personally leave the peel on. A quick dessert for dinner guests. My DH wouldn't eat the A'nju pears plain, so I came up with this recipe. The alcohol cooks off so this is child friendly."
Ingredients
2 a'nju pears, peeled, cored and sliced

2 tablespoons margarine or 2 tablespoons butter, melted

1/4 cup butterscotch schnapps

2 tablespoons brown sugar

3 dashes cinnamon

whipped cream or Cool Whip

aluminum foil
Directions
In a glass pyrex flat baking dish, add pear slices. melted butter and Butterscotch Schnapps.

Preheat oven 325*.

Turn the slices until all are coated. Place peel side down if leaving the peel.

Sprinkle the brown sugar over the slices.

Sprinkle with the cinnamon.

Cover with foil.

Bake 35 minutes.

Dish up warm and spoon sauce over. Add a dollop of whipped cream. I add a dab of sauce over the top of the cream. You may also chill and serve cold.

Note: You can thicken the buttery butterscotch sauce if you wish.

If you cool, make sure you take the cooled butter or margarine off the top,.

warm it and drizzle over the cooled pears.