Obie's Smothered Pork Chops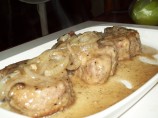 Photo by Glutton
Prep Time: 25 mins
Total Time: 1 hr 45 mins
Serves: 4-6, Yield: 6 chops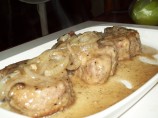 Photo by Glutton
About This Recipe
"From the cookbook, "Harlem Really Cooks" by the late Harlem historian and gourmand Sandra Lawrence. "Obie" was a friend of hers who owned a nightclub/restaurant and smothered chops were one of the many specialties made there. The use of pancake mix in lieu of plain flour gives this dish a slight sweetness along with the sugar as well. The only change I made was the addition of mushrooms to the gravy. Serve with Sauteed Potatoes With Apples - I hope you like it. And please, do buy the book. *Note: If you don't eat pork for religious or health reasons, turkey chops are a fine substitute."
Ingredients
6 center cut 1-inch pork chops

1 teaspoon salt

1 teaspoon onion powder

1 teaspoon garlic powder

1/4 teaspoon ground black pepper

1/4 teaspoon cayenne pepper

1/4 cup aunt jemima's pancake mix

2 tablespoons corn oil

Gravy

3 medium onions, sliced

4 ounces of sliced raw mushrooms

1 teaspoon salt

1/4 teaspoon ground black pepper

1 tablespoon sugar

1/4 cup all-purpose flour

2 cups boiling water
Directions
Preheat your oven to 350 degrees.

Rinse chops, then pat them dry. Sprinkle with spices mentioned above. Then dredge into pancake mix.

Heat the oil in a large skillet over medium heat. Place the chops into the skillet. Brown the chops on both sides. Remove from the skillet and place in a roasting pan.

In the skillet, now saute the onions and mushrooms with the salt, pepper and sugar until slightly browned.

Stir in the flour until absorbed. Gradually add the boiling water, stirring constantly, until the gravy thickens and boils.

Place chops in the pan; cover tightly with heavy-duty aluminum foil. Bake for 1 hour and twenty minutes; the chops and gravy should be a rich golden brown.

Place chops on a serving platter; either place gravy on top, or strain through sieve and put gravy in a gravy boat; skim fat off top and serve.