Okara Dark Chocolate Cherry Brownies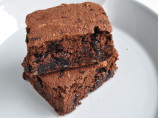 Photo by tokyovegan
Prep Time: 30 mins
Total Time: 1 hr 5 mins
Yield: 12 brownies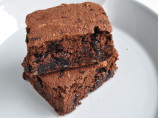 Photo by tokyovegan
About This Recipe
"Do you make your own soy milk and struggle to use up all that okara? Try these rich, dark chocolate brownies. Biting into a tart red cherry among the dark chocolate is heavenly. Don't have any okara? Just substitute a cup of mashed soft tofu. From the website: www(dot)okaramountain(at)blogspot(dot)com"
Ingredients
1/2 cup semi-sweet chocolate chips ( 3 ounces)

4 ounces bittersweet chocolate, coarsely chopped

3 tablespoons hershey's special dark cocoa

4 tablespoons butter

1 cup unbleached white flour

1 cup dark brown sugar

1/2 teaspoon baking powder

1/2 teaspoon salt

1/2 cup chopped walnuts

1 cup dried tart cherry

1 cup wet okara ( this is referring to the okara straight from your machine)

2 teaspoons vanilla
Directions
Preheat oven to 350 degrees.

In a microwaveable bowl melt together the chocolate chips, bittersweet chocolate, cocoa, and butter. Microwave for one minute, stir and set aside to finish melting.

In a large mixing bowl sift the flour, brown sugar, baking powder, salt. Add the walnuts and cherries and mix well.

In a small mixing bowl stir together the okara (or tofu) and vanilla. Add the melted chocolate mixture. Add this mixture to the dry ingredients, mixing well.

Spread into a greased 8" x 8" square baking pan. (To make it easier to cut, line your pan with a sheet of foil that overhangs the edges an inch or two. Spray the foil with cooking spray, then spread your batter. When it is finished baking, just lift out the foil and you can cut perfect squares with no waste -- and that is important when you are serving something chocolate!)

Bake for approximately 35 - 45 minutes. Do not overbake.