Jerry Traunfeld's Tarragon Chicken Breast With Buttery Leeks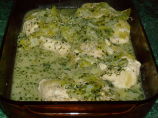 Photo by WhatamIgonnaeatnext?
Prep Time: 45 mins
Total Time: 45 mins
Servings: 4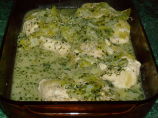 Photo by WhatamIgonnaeatnext?
About This Recipe
"This dish, featured in Rob Kasper's column, tastes like spring. Try it with fresh asparagus and baby new potatoes. From the Splendid Table's How to Eat Supper, by Lynne Rossetto Kasper and Sally Swift. Jerry Traunfeld is a chef in Woodinville, Washington and the author of The Herbfarm Cookbook."
Ingredients
2 cups leeks, white and light green parts only, thinly sliced

2 cups chicken broth ( I use homemade, salt free)

4 tablespoons unsalted butter ( divided use)

4 boneless skinless chicken breasts, about 1 1/2 pounds ( organic if possible)

kosher salt & fresh ground pepper

2 teaspoons lemon juice, fresh

2 tablespoons tarragon leaves, fresh, coarsely chopped
Directions
Place leeks in a large skillet with chicken broth and 2 tablespoons of the butter.

Cook at a gentle boil over medium heat until the leeks are tender and the broth has boiled down far enough so that the leeks are no longer completely submerged; this should take about 8 to 10 minutes.

Sprinkle both sides of the chicken breasts with salt and pepper.

Place them on top of the simmering leeks, spoon some of the leeks over the chicken, and cover the pan tightly.

Reduce the heat to low; after 10 minutes, test the chicken for doneness. It should feel firm when you press it. If breast pieces are large, it could take as long as 15 minutes, but don't overcook them.

When the chicken is done, transfer it to a warm platter.

Increase the heat under the leeks to high; stir in the lemon juice , the remaining 2 tablespoons of butter and the tarragon.

When the butter melts, season with salt and pepper to taste.

Pour the leek sauce over the chicken and serve.