Baked Haddock With Tomato and Cilantro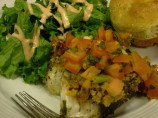 Photo by loof
Prep Time: 10 mins
Total Time: 30 mins
Serves: 4, Yield: 1 fillet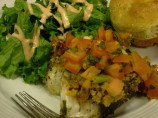 Photo by loof
About This Recipe
"Easy low-fat way to make baked haddock with tons of flavor! I love baked haddock but my body does not love all of the calories that go along with the rich flavor, so I decided to try a new twist and it's even better. It's fairly easy though there are a lot of ingredients (Which can be removed depending on taste...the most important part is the tomato cilantro fish and scallions!). The presentation of the fish is beautiful with the red and green colors against the breadcrumbs."
Ingredients
1 lb haddock fillet ( or 4 medium size fillets)

2 medium tomatoes, diced ( I prefer campari tomatoes)

1/4 cup fresh cilantro, cut fine

1 stalk scallion ( sliced thin)

2 tablespoons olive oil

nonstick cooking spray ( preferably olive or canola blend)

1 tablespoon lemon juice

1 cup seasoned bread crumbs

1 teaspoon sea salt

1 teaspoon black pepper

1 teaspoon garlic powder

1 teaspoon onion powder

1/2 teaspoon parsley (optional)

1/2 teaspoon red pepper flakes ( also optional)
Directions
Pre-head oven to 350 degrees.

In a bowl, combine the breadcrumbs, salt, pepper, garlic powder, onion powder, parsley and red pepper flakes. Mix.

Spray a bake dish/pan with non-stick cooking spray.

Place 4 pieces of fish on bake ware, skin side down.

Add a 1/4 tablespoon of olive oil to each piece of fish. spread on fish.

Add the breadcrumb mixture on top of each piece of haddock (about 1/4 cup to each piece of fish, more or less depending on the size of the fillet).

Cook in the oven for 15 minutes.

Meanwhile -- add the tomatoes, scallions, cilantro and lemon juice to bowl. Mix together with spoon or fingers.

After the 15 minute cooking time period is up, add the tomato/cilantro mixture to top of each fish and cook for an additional 5 minutes.

Serve immediately.