Chocolate Chip Pancakes With Cinnamon Cream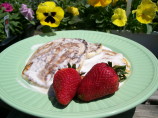 Photo by Crafty Lady 13
Prep Time: 7 mins
Total Time: 17 mins
Serves: 6-8, Yield: 6.0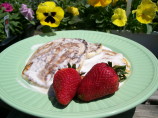 Photo by Crafty Lady 13
About This Recipe
"Source: Paula Deen (Food Network)"
Ingredients
Pancakes

1 1/4 cups all-purpose flour

3 tablespoons sugar

2 teaspoons baking powder

1/4 teaspoon salt

1 cup milk

2 large eggs, separated

3 tablespoons butter, melted

4 tablespoons butter, divided

1/2 cup miniature chocolate chip

Cinnamon Cream

1 cup heavy whipping cream

1/4 cup confectioners' sugar

1/4 teaspoon ground cinnamon

maple syrup, for serving
Directions
Preheat griddle to 350°F

In a large bowl, combine flour, sugar, baking powder, and salt.

In a small bowl, combine milk, egg yolks, and 3 tablespoons melted butter; add to flour mixture, whisking until smooth.

In a small bowl, beat egg whites at medium-high speed with an electric mixer until stiff.

Gently fold into batter.

Gently fold in chocolate morsels.

Melt 2 tablespoons butter on hot griddle.

Ladle about 1/4-cup batter for each pancake onto hot griddle.

Cook pancakes for 2 to 3 minutes, or until tops are covered with bubbles and edges look cooked.

Turn and cook the other side.

Repeat procedure with remaining 2 tablespoons butter and remaining batter.

For the Cinnamon Cream:.

In a medium bowl, beat cream at medium-high speed with an electric mixer until thickened.

Gradually beat in confectioners' sugar and cinnamon, beating until stuff peaks form.

Cover and chill.

Serve pancakes with Cinnamon Cream and maple syrup.