Portabella Panini With Gorgonzola Cheese and Sun-Dried Tomatoes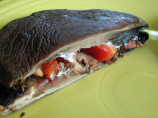 Photo by Brooke the Cook in WI
Prep Time: 15 mins
Total Time: 25 mins
Serves: 2, Yield: 2 portobello paninis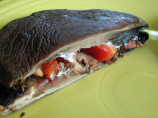 Photo by Brooke the Cook in WI
About This Recipe
"Panini without bread! I recently got a panini maker and am excited to find some healthier recipes to make with it, such as this one from Ellie Krieger's Healthy Appetite T.V. show. For the Valentine's episode she cut the portobellos with heart-shaped cookie cutters. You don't need a panini maker for this recipe!"
Ingredients
4 sun-dried tomatoes ( not oil-packed)

4 portabella mushroom caps ( about 2 ounces each)

1/4 cup crumbled gorgonzola

1 tablespoon olive oil

1 teaspoon olive oil

salt and pepper
Directions
Reconstitute the sun-dried tomatoes by soaking them in boiling water for 10 minutes. Remove the tomatoes from the water and chop them.

Slice the stems off of the mushrooms so they can lay completely flat. Slice each cap in half so you have 8 round mushroom slices.

Top half of the mushrooms with 1 tablespoon of tomatoes and 1 tablespoon of cheese. Top with remaining mushroom slices. Brush the top side of each "sandwich" with olive oil.

Preheat a large, nonstick skillet or grill pan. Place the mushroom sandwiches in the pan carefully, oil side down, and cook for 2 minutes. Brush the top half with oil, flip, and cook for 2 minutes more. Season with salt and pepper, to taste, and serve.