Chiles Rellenos With Roasted Red Pepper Sauce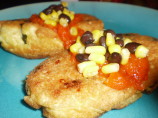 Photo by breezermom
Prep Time: 45 mins
Total Time: 1 hr 15 mins
Servings: 8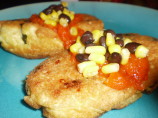 Photo by breezermom
About This Recipe
"This makes a nice main dish for your Mexican-themed dinner or party. From Good Food Magazine May 1988."
Ingredients
2 lbs red bell peppers

8 large anaheim chilies or 8 large green poblano chiles or 2 (7 ounce) cans fire-roasted green chilies

1/2 cup fresh orange juice

1 1/4 teaspoons salt

6 ounces mild goat cheese

6 ounces monterey jack cheese, shredded

6 large eggs, room temperature, separated

1/4 cup all-purpose flour

1/4 cup yellow cornmeal

4 tablespoons vegetable oil

1 cup frozen corn kernels, thawed and patted dry

1/2 cup canned black beans, rinsed and patted dry
Directions
Heat broiler.

Arrange bell peppers and fresh chiles on broiler pan. Broil 4 inches from heat, turning with tongs, until skins are blistered, about 20 minutes. Let steam in separate covered bowls 10 minutes. Remove charred skin from peppers and chiles. Set chiles aside.

Prepare sauce: Cut bell peppers in half; remove stems and seeds. Place peppers, orange juice and 1/4 t. salt in food processor or blender and process just until smooth. Transfer to top of double boiler and set aside.

Prepare chiles: using small knife, make lengthwise slit in each chile, leaving stem intact, and remove seeds. (Canned chiles will be stuffed from top where stem used to be. Do not slit but blot dry with paper towels.).

Using fork, mix cheeses in small bowl and stuff into chiles.

Lightly beat egg yolks in mixing bowl. Add flour and 1 t. salt and beat until blended.

Whisk egg whites in second bowl until stiff peaks form. Using rubber spatula, gradually fold egg yolk mixture into egg whites, then fold in cornmeal.

Heat 2 T. oil in large heavy skillet over medium-high heat. Dip 4 chiles one at a time into batter and spoon batter over top to coat all sides. Place chiles in skillet and fry until crisp on one side, about 3 minutes. Using fork and spatula, turn chiles over and fry second side until crisp and golden, 2-3 minutes longer. Remove and drain on paper towels. Keep warm in oven. Repeat with remaining 2 T. oil, chiles, and batter.

Meanwhile, gently warm sauce over simmering water.

Spoon sauce into wide shallow serving dish and arrange chiles on top. Sprinkle sauce and chiles with corn and beans. Serve at once.