Not Your Typical Chili... Hot & Healthy!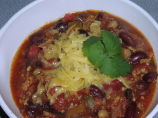 Photo by teresas
Prep Time: 30 mins
Total Time: 3 hrs 30 mins
Serves: 10, Yield: 10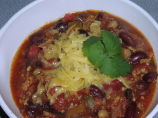 Photo by teresas
About This Recipe
"This is a blend of my families recipe and an ultra modern version I created a few years ago. (Shhh! Don't tell anyone but its healthy!) Note: I have swapped out lean ground turkey for Ground Boca before, this works fine but if you want to do this I recommend two packets, also don't add the Boca until a few minutes before adding the canned items. Boca doesn't seem to hold up too well in dry, high heat environments."
Ingredients
1/2 lb lean ground turkey

1 (1 1/8 ounce) packages chili seasoning mix ( I use William's brand Chipotle chili seasoning, it is by far the best I have ever had.)

1 large yellow onions or 1 large white onion, diced

1 red bell pepper, diced

1 green bell pepper, diced

1 tablespoon crushed garlic

0.333 (16 1/8 ounce) jars jalapenos, with Juice

0.333 (16 1/8 ounce) jars banana pepper rings, with Juice

2 (14 1/2 ounce) cans whole tomatoes ( I slice the whole tomatoes in half)

1 (28 ounce) cans diced tomatoes

1 (14 1/2 ounce) cans Rotel tomatoes & chilies ( off brand is ok, I use extra hot)

2 (14 1/2 ounce) cans kidney beans, drained & washed ( VERY important that you drain and wash!)

2 (14 1/2 ounce) cans black beans
Directions
In a large chili pot on medium high brown ground turkey.

Drop your temperature, add onions, garlic, bell peppers, and seasoning.

Your mixture will quickly dry up, add the jalapeños and pepper rings (with juice!) for moisture. If that doesn't cut it use the juice from a one of the cans of tomatoes.

Once onions turn translucent again drop your temperature, add all remaining ingredients.

Allow to simmer for at least three hours stirring every 30mins.

If the chili ends up too hot for your or anyone in the family serve with sour cream which will cut the heat. (and make it EVEN BETTER) We also like to add fresh chopped onions and crushed whole wheat crackers on top but this is optional depending on you preferences.