Crock Pot Chops That Will Make You Eat Til You Pop!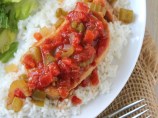 Photo by Delicious as it Looks
Prep Time: 10 mins
Total Time: 6 hrs 10 mins
Servings: 4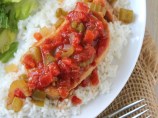 Photo by Delicious as it Looks
About This Recipe
"These have to be, hands down, the BEST meal I have EVER made in a crock pot. I borrowed a friend's crock pot one weekend and made this for my honey. Low and behold, I got a crock pot for my next birthday along with a request for this recipe to be the first thing I made. I really wish I know where I got the recipe from because I would LOVE to give credit for it. I beg of you, do yourself a favor and try this. You will NOT regret it. Let me know what you think!!"
Ingredients
4 pork chops, each about 1/2 inch thick

2 medium onions, chopped

2 celery ribs, chopped

1 large green pepper, sliced

1 (14 1/2 ounce) cans stewed tomatoes

1/2 cup ketchup

2 tablespoons cider vinegar

2 tablespoons brown sugar

2 tablespoons Worcestershire sauce

1 tablespoon lemon juice

1 beef bouillon cube

2 tablespoons cornstarch

2 tablespoons water
Directions
Salt and pepper pork chops if desired.

Add all ingredients except water and cornstarch to the crock pot.

Cook on low for 5 1/2 hours.

Mix cornstarch and water together and stir into crock pot.

Cook 30 minutes more.

Serve over rice.