Easy Grilled Antipasto Platter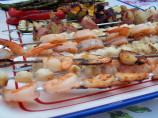 Photo by little_wing
Prep Time: 15 mins
Total Time: 30 mins
Servings: 4-8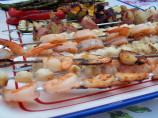 Photo by little_wing
About This Recipe
"So, so good. Serves 8 as appetizers or 4 for a main dish."
Ingredients
1/2 cup olive oil

1/4 cup lemon juice

1 tablespoon fresh rosemary

1/2 teaspoon salt

1/4 teaspoon black pepper

16 medium scallops

16 medium shrimp, peeled and deveined

12 mushrooms ( about 1-inch in diameter)

10 ounces bacon

16 asparagus spears

1 (6 1/2 ounce) jars artichoke hearts, rinsed

2 medium zucchini, sliced thinly lengthwise

2 small red bell peppers, cut into 1-inch strips

lemon wedge (optional)

12 wooden skewers, soaked in water for 20-30 minutes
Directions
Preheat grill.

Whisk together olive oil, lemon juice, rosemary, salt and pepper and set aside.

Thread 4 scallops on each of 4 skewers.

Thread 4 shrimp on each of 4 skewers.

Thread 6 mushrooms on each of 2 more skewers.

Cut bacon in half crosswise.

Wrap 2 asparagus spears together with strip of bacon and secure with toothpick. Repeat with remaining spears.

Wrap each artichoke heart in strip of bacon and thread onto remaining 2 skewers.

Place all skewers, pepper strips, zucchini slices, artichoke hearts and asparagus spears on baking sheet.

Reserve 1/4 cup of lemon baste.

Brush remaining baste on skewers and vegetables, coating all sides.

Grill 7-12 minutes or until seafood firms up and turns opaque, vegetables are done, and bacon crisps up, turning occasionally. Rotate items on grill as need to ensure even doneness.

Items will be done at different times, remove to platter as they get done.

Drizzle remaining lemon baste over all.

Serve with lemon wedges, hot or at room temperature.