Spicy Grilled Chicken Wings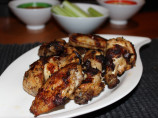 Photo by Jostlori
Prep Time: 12 hrs
Total Time: 12 hrs 20 mins
Servings: 6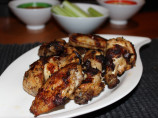 Photo by Jostlori
About This Recipe
"We make these all the time! Some marinades need just a short time, but this really tastes amazing if you let it take up space in your fridge for at least 12 hours, preferably up to 48 hours. They taste great at room temperature, so you can even cook them in advance. Prep time, as always, includes marinating time."
Ingredients
4.92 ml black pepper

4.92 ml salt

2 clove garlic

59.14 ml freshly squeezed lemon juice

4.92 ml crushed red pepper flakes

0.25 ml hot pepper sauce ( or to taste)

59.14 ml canola oil or 59.14 ml olive oil

680.38 g chicken wings
Directions
Place the pepper and salt in a medium bowl.

Add the garlic cloves and crush into the salt and pepper to make a thick paste.

Add the lemon juice, crushed red pepper, and hot sauce.

Whisk in the olive oil slowly until well combined.

Place the chicken wings in a large sealable plastic bag.

Add the marinade and seal the bag tightly.

Shake the bag well to coat.

Refrigerate for 12-48 hours.

Remove the chicken wings from the refrigerator and let sit at room temperature for 25-30 minutes while heating the grill.

Grill over medium-high heat, flipping frequently and brushing with the marinade for 15-20 minutes or until cooked through.

Do not brush the wings with the marinade for the last five minutes to make sure the juices all cook thoroughly.

Throw away the marinade.

Serve hot, at room temperature, or chilled (see how versatile this is?).

The wings can be refrigerated for up to 2 days before serving chilled, or reheated.