Vegan Death by Chocolate Mousse Cakes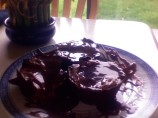 Photo by Newyorkchick130
Prep Time: 30 mins
Total Time: 2 hrs 30 mins
Servings: 3-4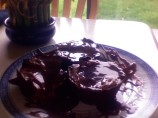 Photo by Newyorkchick130
About This Recipe
"As vegans, we sometimes miss out on the "Death By Chocolate" desserts. Not any more! The Vegan Death By Chocolate Mousse cakes are very yum! And there will be some leftover mousse for a midnight treat!"
Ingredients
Curst

1/2 cup white flour

1/4 teaspoon baking powder

1/4 cup brown sugar

3 tablespoons cocoa powder

1/4 cup canola oil

2 tablespoons soymilk

1 teaspoon vanilla extract

1/4 teaspoon salt

Mousse

1 cup semisweet vegan chocolate chips

340 g firm silken tofu

1/2 cup soymilk

1/2 teaspoon vanilla extract

Chocolate Sauce

1/2 cup sugar

1 1/2 tablespoons cocoa powder

1 tablespoon white flour

1/2 cup soymilk

1/2 teaspoon vanilla extract
Directions
Crust: Pre-Heat Oven to 350f (180c) and Oil a Large Muffin tin.

In a medium bowl, mix flour, baking powder, sugar and cocoa powder.

In a small bowl mix oil,maple syrup, soy milk, vanilla and salt.

Pour the wet ingredients into the dry and mix well.

In the Large muffin tin, spread some batter into the one muffin thingy and make a small crust. continue until all batter is used up.

Bake for 10-18 minutes, than let cool.

Mousse: Melt chocolate chips in microwave,

In a blender, blend tofu, melted chocolate chips, soy milk and vanilla extract until smooth.

Put mousse in the crusts, than let chill for 2 or more hours.

Chocolate Sauce: Mix all Ingredients together in a small saucepan and bring to a boil, than take off heat and let cool down.

Pour over Mousse Cakes.