Puffy Strawberry Shortcakes With Meringue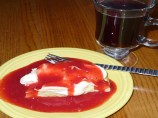 Photo by QueenBee49444
Prep Time: 30 mins
Total Time: 55 mins
Servings: 8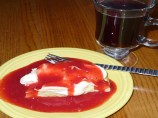 Photo by QueenBee49444
About This Recipe
"I recently found this recipe -- I haven't tried it yet, but it sounds like it will make a light, fresh dessert that I think my family will enjoy."
Ingredients
16 ounces frozen strawberries, partially thawed

1/2 cup strawberry jelly

2 cups fresh strawberries, hulled and sliced

0.5 (17 ounce) packages frozen puff pastry, thawed ( 1 sheet)

1/2 cup water

1 tablespoon cornstarch

3/4 cup sugar

1/2 teaspoon cream of tartar

6 egg whites

1 teaspoon vanilla

8 fresh strawberries
Directions
Preheat oven to 425 degrees. Blend or process frozen strawberries and jelly until smooth. Stir in sliced berries; cover and refrigerate.

Roll pastry to 12x10 inches; cut in eight rectangles. Place pastry rectangles 1 inch apart on large baking sheet; pierce with fork tines. Cover with second baking sheet. Bake 6 minutes. Remove top baking sheet; bake 4 minutes more. Remove from oven; let stand on sheet. Reduce oven to 325 degrees.

For meringue, mix 1/2 cup water and cornstarch. Put in small saucepan and cook over medium heat until thickened and bubbly. Remove from heat; cool slightly. In bowl combine sugar and cream of tartar; set aside. In large mixing bowl beat egg whites and vanilla on medium to high speed until frothy. Gradually beat in sugar mixture until soft peaks form. Add cornstarch mixture; beat to stiff peaks. Spoon on pastry; bake meringue 15 minutes. Serve pastries warm with sauce. Top each piece with a fresh whole strawberry, dabbing a bit of the sauce on the meringue, under the strawberry, to keep the whole berry in place.