Lorilyn's Baked Strawberry French Toast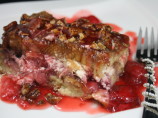 Photo by **Tinkerbell**
Prep Time: 30 mins
Total Time: 1 hr 20 mins
Servings: 6-8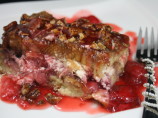 Photo by **Tinkerbell**
About This Recipe
"A culmination of several recipes over the years, this is another delicious breakfast that is made the night before; sparing the chef from getting up early or messing up the kitchen first thing. Serving size is listed as 6-8, but I serve with bacon or sausage & possibly scrambled eggs so we usually get 10 servings out of it. Can also be halved & made in a 9x9 brownie pan to serve a family of 3-4."
Ingredients
1 loaf bread, cut into 1-inch cubes ( buttermilk or potato recommended)

4 cups strawberries, quartered ( fresh or frozen)

1 (4 ounce) packages cream cheese, cut into 1/2-inch cubes

7 eggs

1 cup milk

1 cup half-and-half cream

2 teaspoons almond extract

1/2 teaspoon nutmeg

1/2 teaspoon cinnamon

1 loaf French bread, sliced into 1-inch thick slices

1/2 cup butter, melted

1 cup brown sugar, packed

2 tablespoons corn syrup

1 cup pecans, chopped

Syrup

1 cup sugar

2 tablespoons cornstarch

1 cup water

16 ounces frozen strawberries, thawed and quartered

1 tablespoon butter or 1 tablespoon margarine
Directions
Spray a 13x9 baking dish with non-stick cooking spray.

Sprinkle bread cubes over bottom of dish.

Sprinkle berries over bread cubes.

Sprinkle cream cheese over berries.

In large bowl, whisk together the eggs, milk, half & half, almond extract, nutmeg & cinnamon.

Arrange French bread slices over the surface of the berries & cream cheese, creating a flat surface of bread rounds & getting in as many as possible without them popping up. Pour egg & milk mixture over French bread slices.

Mix melted butter, brown sugar, corn syrup & pecans and spread over french bread slices. Cover tightly & refrigerate overnight.

Remove from refrigerator & let stand 20-30 minutes before baking. Preheat oven to 350°. Bake uncovered 50-60 minutes. Let sit 10 minutes before slicing.

For Syrup (can be made fresh or in advance, refrigerated, and reheated for serving):.

In a saucepan, combine sugar and cornstarch; add water.

Bring to boil over medium heat and boil for 3 minutes, stirring constantly.

Stir in strawberries and reduce heat. Simmer for 8-10 minutes or until thickened. Stir in butter and serve over french toast.