Beverage Gang Dedication Shrimp, Pasta, and Asparagus Supreme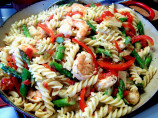 Photo by Rita~
Prep Time: 5 mins
Total Time: 30 mins
Servings: 4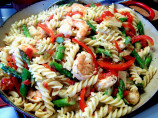 Photo by Rita~
About This Recipe
"This is dedicated to the Beverage Gang as they have inspired me to use more spirits in my cooking. I like that I have to sample the spirits to make sure they are just right for the cooking. :-)"
Ingredients
1/2 lb fusilli (any kind with texture) or 1/2 lb spiral shaped pasta ( any kind with texture)

1/2 lb asparagus ( cut into 2 in pieces)

1/2 lb shrimp ( I used medium size, cooked)

1 cup white wine ( I used a Shiraz)

2 -3 tablespoons butter

1 tablespoon olive oil

8 ounces diced tomatoes and green chilies

1 onion, large sliced thick

2 stalks celery, diced

1 teaspoon basil

4 garlic cloves, diced

1/2 cup parmesan cheese
Directions
In large skillet, heat oil and 2 Tbsp butter to melting, add in onions, garlic, celery, cook 4 min.

Add in 1 c wine and simmer til reduced by 1/2.

Add in shrimp and tomatoes with green chilis and incorporate, heat through 3-4 minute.

(if shrimp is uncooked, cook til pink in color).

In the meantime, have a 4 qt pan heating water with a pinch of salt, once boiling add in pasta, cook 4 minute Then add asparagus and stir. Cook til al dente. about 4 minute.

Drain pasta and asparagus return to pan. Add in parmesan cheese and stir, pour into Casserole pan or Pasta plate. Then pour shrimp and veggie mix over top and serve.

Served with a crusty tomatoe basil bread. (will post soon)and a Shiraz wine. YUMMY.

*** cook time is overlapped as pot of water is cooking as you are making shrimp topping.