Hank Aaron's Swiss Chicken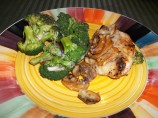 Photo by rpgaymer
Prep Time: 20 mins
Total Time: 50 mins
Servings: 6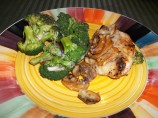 Photo by rpgaymer
About This Recipe
"Adapted from the Peachtree Bouquet cookbook, this is a favorite of the "homerun king" and former Atlanta Brave, Hank Aaron. I can see why! Enjoy!"
Ingredients
6 tablespoons butter, divided

2 tablespoons olive oil

6 chicken breast halves, skinless, boned

3/4 lb large white mushroom, stemmed

1 large bunch broccoli, stems peeled, trimmed, and cut in spears

lemon pepper seasoning

2 tablespoons flour

1/2 cup chicken broth ( or stock)

1/2 cup dry white wine

1 1/2 cups swiss cheese, grated

salt and pepper

swiss cheese, grated to garnish
Directions
Lightly butter a baking dish, set aside.

Melt 2 tbls. butter with oil in a 12" heavy skillet. Add the chicken; cook until the juices run clear when pricked with a fork, about 3-5 minutes on each side(don't overcook!). Remove chicken, set aside.

Melt 2 tbls. butter in the same skillet. Add mushrooms and cook over medium high heat until tender, about 5-8 minutes. Set asie.

Arrange the cooked broccoli in a single layer in the bottom of the buttered baking dish.

Season the chicken with some lemon pepper seasoning(to taste), and arrange in single layer over broccoli.

Preheat broiler.

Melt remaining 2 tbls. butter in a 1 quart saucepan. Whisk in flour; cook over low heat, stirring constantly, about 3 minutes. Pour in chicken stock and wine, whisking until completely blended. Continue cooking and stirring until the sauce thickens enough to coat a spoon. Add 1 1/2 cups Swiss cheese, stirring until melted. Taste and season with salt and pepper.

Pour sauce over chicken; arrange mushrooms on top. Sprinkle additional cheese over dish to garnish.

Broil about 6" from heat source until the top is bubbly and golden.

Serve immediately. Enjoy!