Linguine With Shrimp Scampi - Barefoot Contessa Ina Garten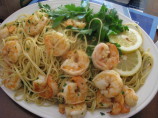 Photo by Chef #1803187362
Prep Time: 10 mins
Total Time: 25 mins
Servings: 3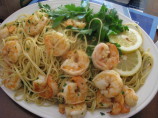 Photo by Chef #1803187362
About This Recipe
"This is a light pasta dish with plenty of shrimp, garlic, and lemon. I have reduced the amount of lemon and salt from the original recipe to suit my DBF's tastes. The leftovers are just as good heated up in the microwave the next day."
Ingredients
vegetable oil

kosher salt

3/4 lb linguine

3 tablespoons unsalted butter

2 1/2 tablespoons olive oil

1 1/2 tablespoons minced garlic ( 6 cloves)

1 lb large shrimp, peeled and deveined ( about 16 shrimp)

1 teaspoon kosher salt

1/4 teaspoon fresh ground black pepper

1/3 cup chopped fresh parsley leaves

1/2 lemon, zest of, grated

3 tablespoons fresh lemon juice ( 1 1/2 lemons)

1/4 lemon, thinly sliced in half-rounds

1/8 teaspoon hot red pepper flakes
Directions
Drizzle some oil in a large pot of boiling salted water, add the linguine, and cook for 7 to 10 minutes, or according to the directions on the package.

Meanwhile, in another large (12-inch), heavy-bottomed pan, melt the butter and olive oil over medium-low heat.

Add the garlic, saute for 1 minute. Be careful, the garlic burns easily!

Add the shrimp, 1 teaspoon of salt, and the pepper and saute until the shrimp have just turned pink, about 5 minutes, stirring often.

Remove from the heat, add the parsley, lemon zest, lemon juice, lemon slices, and red pepper flakes.

Toss to combine.

When the pasta is done, drain the cooked linguine and then put it back in the pot.

Immediately add the shrimp and sauce, toss well, and serve.